Contributed by: Catherine Lawson
Visiting Thailand, where wild elephants roam
Just over an hour's drive away from the Hilton Hua Hin, Thailand's biggest herd of wild elephants roams free, safe...
Journey with us to far north Queensland to save the endangered Cassowary
They are Far North Queensland's most incongruous neighbours: tourists, sea changers and land developers chasing a slice of tropical paradise...
Join WellBeing as we travel to Malaysia's beautiful riverside town of Kuching
Kuching is Malaysia's most beautiful riverside town offering escapes to beaches, wildlife and tantalising cuisine.
10 ways to re-wild in the south-west of Australia
We explore Western Australia's last pockets of true wilderness and a chance to re-wild: to reconnect and reclaim a sense...
Join us on our journey to a Rhino refuge in Chitwan, Nepal
In Chitwan, Nepal's "heart of the jungle", the greater one-horned rhinoceros is making a remarkable comeback. We explore the world's...
Heading to Sri Lanka this year? Add the south coast to your itinerary
A road trip along Sri Lanka's south coast offers relaxation and inspiration as well as galleries, wine bars and ocean-view...
Want to go to Nepal? Here, we discover Kathmandu's great escape
Two years on from an earthquake that left it shattered, Nepal's lofty mountains, rich history, colourful locals and spiritual heartbeat...
Discover magical Ningaloo Reef
A riotously coloured coral reef and mesmerising marine life are just some of the wonders of the deep and the...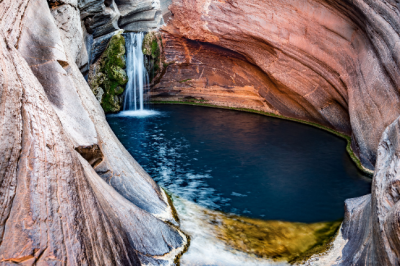 Explore Karijini National Park
Rugged red rock, plunging gorges and sinuous streams reward all visitors to Karijini National Park in Australia's far west, adventurers...
Striking Sri Lankan elephant safari
Encountering some of nature's most striking animals in near solitude is an experience that's hard to beat — and even...
Discover wild Sumatra
Gorgeous northern Sumatra is the holiday destination you didn't realise you were seeking. Come join us?
Discover Burma's sea of tranquillity
In the heart of Myanmar lies a lake surrounded by ancient temples, Buddhist monasteries, bustling markets, kind strangers, unforgettable scenery...
We go troppo in Cairns
Join us as we explore Far North Queensland's tropical pleasures.
We travel west to sunny Broome
Australia's western coastline harbours many wild, wonderful destinations yet arguably none as intriguing or colourful as character-filled Broome.
Kakadu dreaming
We explore Kakadu National Park in Australia's far north and find it's rich in wildlife, landscapes and Aboriginal culture.