Fast your way to wellness with these three delicious recipes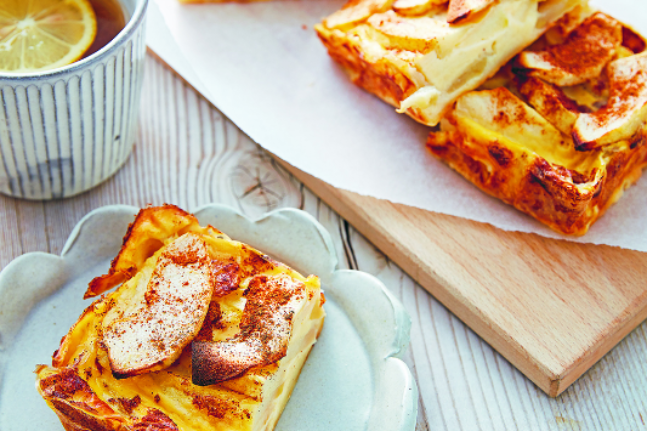 Credit: Lee Holmes
Autumn is a great time to tune in to your body and give it a gentle tune-up. One of my favourite sensible, simple and sustainable approaches to cleansing is practising intermittent fasting.
I like to fast intermittently two days a week but, instead of munching on low-calorie unprocessed foods, I feature balanced meals made using nutritious unrefined wholefoods. By using wholefoods when fasting, you can enjoy the cleansing benefits along with steady and sustained energy.
Because wholefoods are fresh with minimal added ingredients, they typically contain fewer calories and more nutrients than other foods, meaning that, if you're having a leafy green salad or vegetables, you can pile a few more onto your plate and still maintain both your fast and a healthy diet.
If you've never tried intermittent fasting before and want to know more, it's a scientifically proven approach to achieving health, longevity and sustainable weight loss. It involves reducing your calorie intake from time to time (for example, on two days each week) to around 500 calories (2090 kilojoules) for women and 600 calories (2510 kilojoules) for men.
By using wholefoods when fasting you can enjoy the cleansing benefits along with steady and sustained energy.
If you've been looking into intermittent fasting for a while, I'm sure you may have spied the many available fasting recipes for puddings, bakes and cakes that have the right number of calories but are low in nutrients and sky-high in processed and refined ingredients. These aren't the best foods to feed your body for good health.
We in the West have become snack-obsessed, thanks to marketing and an overabundance of food choices. Apart from when we're asleep, it's common for us to snack all day, giving our bodies little time to benefit from the healing and regenerative effects of fasting. With intermittent fasting, you allow your body to reap the health benefits once enjoyed by hunter-gatherers,
who ate only the foods provided by nature and only when they
were naturally, conveniently available.
Intermittent fasting is all about getting in sync with the natural biological processes and cues of your unique body. As a result
of the Industrial Revolution and the globalisation of the modern food industry, our plates are filled with ingredients that our DNA may not be adapted to tolerate. Jumping off the continuous-eating bandwagon and incorporating regular bursts of fasting will allow you to rest, reset and regenerate your body, restoring its true functions.
One way intermittent fasting resets the body is by helping it shift from a sugar-burning machine into a fat-burning machine. Refined grains and excess sugar form a large portion of the Western diet. These are broken down immediately into glucose and circulated in the bloodstream
to fuel our bodies. Because the glucose is readily available, our bodies will choose to use that rather than taking it from any of our stores. Any excess glucose is converted and stored either as carbohydrate (glycogen) in the liver and muscles or as body fat.
When we run out of glucose in the bloodstream, the body produces more by breaking down its glycogen stores, which are replenished when we eat. This is a big problem for those needing to lose weight as it's only when we enter the fasting state, beyond three hours, that we start to break down our fat stores. Hello, weight loss!
Here are three of my favourite fasting recipes from my latest book Fast Your Way to Wellness.
Baked Apple Pancake
Serves: 4
170 calories (712kJ) per serve
2 medium apples, peeled, cored & sliced
Stevia, to taste
1 tsp lemon juice
3 medium eggs
65g (½ cup) tapioca flour
1 tbsp coconut milk
125mL (½ cup) almond milk
Pinch Celtic sea salt
1 tsp ground cinnamon
Pinch nutmeg
Preheat the oven to 200°C and line a 20cm-square tin with baking paper.
In a medium bowl, mix three-quarters of the apple slices with the stevia and lemon juice.
In a separate medium bowl, whisk the eggs, then mix in the flour, coconut milk, almond milk, salt and apple mixture. Let the batter rest for 10 mins, then pour into the prepared tin. Top with the remaining apple slices, then sprinkle with the cinnamon and nutmeg.
Bake for 20–25 mins or until set. Leave to cool for 10 mins, cut into portions and serve warm.
Teacup Watermelon Salad
Serves: 3
144 calories (603kJ) per serve
350g (2 cups) cubed seedless watermelon
90g (2 cups) baby English spinach leaves
Small handful mint leaves, torn
1 large celery stalk, thinly sliced
½ red onion, thinly sliced
60g (½ cup) goat's cheese, crumbled


Dressing
1 tsp lemon juice
1 tsp lime juice
Handful coriander leaves, chopped
130g (½ cup) sheep's milk yoghurt
Celtic sea salt & freshly ground black pepper, to taste
Whisk all the dressing ingredients together in a small bowl.
Combine the salad ingredients in a large bowl, then divide among three teacups or bowls. Spoon the dressing on top and serve immediately.
Sautéed Scallops with Mushroom & Spinach
Serves: 2
179 calories per serve (749kJ)
1 tsp extra-virgin olive oil
200g scallops, rinsed & patted dry
Celtic sea salt & freshly ground black pepper, to taste
2 garlic cloves, crushed
140g mushrooms, sliced
1 tsp fresh or dried rosemary
1 tsp dried thyme
1 tsp dried oregano
200g baby English spinach
Splash apple-cider vinegar
Chopped parsley & lemon wedges, to serve
Heat the oil in a medium frying pan over medium heat. Season the scallops with salt and pepper, then sear in the pan for 1–2 mins on each side, or until golden-brown, then remove from the pan and set aside.
Add the garlic, mushroom and herbs to the pan, and cook, stirring frequently, for 5 mins. Add the spinach and apple-cider vinegar and cook for 1–2 mins, or until the spinach just begins to wilt. Return the scallops to the pan and cook for 1 min to heat through.
Serve topped with the parsley and a squeeze of lemon juice.