Contributed by: Lee Holmes
Carrot Cake Recipe
This cake embodies everything a carrot cake should be yet still contains a luscious, to-die-for, lip-licking creamy icing. Plus, it's...
3 summer berry recipes
In this article, Lee Holmes shares her three favourite summer berry recipes.
Ham and Cheese Pizza Recipe
This is a power-packed party food to keep energy levels up without the sugar crash.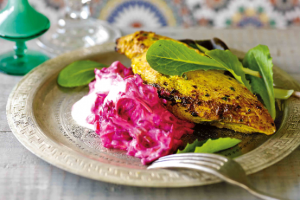 Tuna Tikka Curry Recipe
Be inspired by this lip-smacking, antioxidant- and omega-3-rich meal that will melt in your mouth and satisfy and delight the...
Okra Tempura with Asian Dipping Sauce
We all know tempura is the bees knees, but okra takes it to a whole new level! Give this tasty...
Seaweed and Sesame Salad
Pick up some seaweed from your local healthfood store or Asian grocer and serve this beautiful salad on its own...
Caribbean Fried Rice
Using pungent Caribbean-style spices in your cooking will help to achieve a good metabolism and a healthy appetite. Give this...
Aromatic Lamb and Zucchini Soup
Looking for extra protein and fibre in your meals? This delicious lamb soup will boost immunity and get your digestive...
Cauliflower and Raspberry Cheesecake
This unusual combination will surprise you! Creamy cauliflower and bright pink raspberries are a pleasant pair-up in this delicious dessert....
Chicken Noodle Soup
The trick to making the best-tasting chicken noodle soup is to use good-quality ingredients and if you have homemade stock...