Broccoli Rabe with Noodles in Thai Curry Broth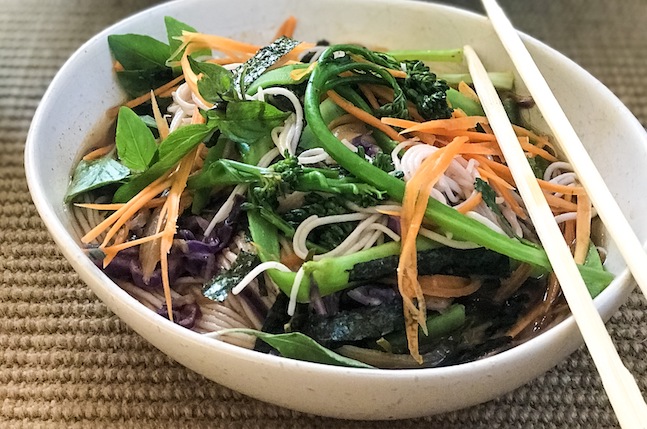 Broccoli Rabe With Noodles In Thai Curry Broth
Broccoli rabe is traditionally used in Italian dishes. However, it works really well in Thai curries, too. If you love noodles, Thai broths and broccoli then you will really enjoy this dish.
Serves: 4
V, VG
200g dry weight brown-rice vermicelli noodles
1 large onion, sliced
2 tbsp minced fresh ginger
4 tbsp vegan red curry paste
6 cups vegetable stock
2 tbsp coconut sugar
4 tbsp soy sauce
2 kaffir lime leaves, finely sliced
1 bunch fresh Thai basil
1 bunch broccoli rabe, sliced lengthways
2 carrots, sliced into thin ribbons
3 cup shredded red cabbage
2 handful green beans, topped & tailed
1 bunch baby buk choy, sliced lengthways
2 sheets nori, cut into small pieces
2 limes, halved, to serve
2 tbsp sesame seeds, to serve
Soak noodles in bowl of boiling water for 15 mins. When soft, drain and rinse.
Meanwhile, heat wok over high heat. Add onion and ginger; stir-fry for 3–5 mins. Add curry paste and stir-fry for 1 min. Add stock, sugar, soy sauce, lime leaves and half the basil leaves. Simmer for 5 min. Add vegetables and nori, stir and then simmer for 2–3 mins or until brightly coloured.
To serve, place half noodles into bowl. Ladle over broth and vegetables. Squeeze over lime juice and sprinkle with sesame seeds.