Cauliflower Hummus Recipe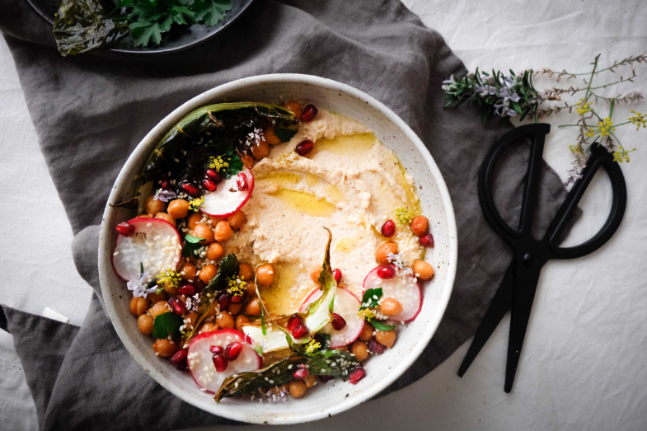 Credit: Meg Thompson
This cauliflower hummus is a lovely alternative to traditional hummus. The cauliflower lends a gorgeous nutty flavour and, garnished with some extra roasted chickpeas and veg, the texture is equally inviting. It's an easy way to use up every bit of the cauliflower, including the leaves!
Serves: 4–6
1 medium–large head cauliflower, washed but don't pat dry
2–3 tbsp tahini
1 tbsp lemon juice
1 small garlic clove, peeled & chopped
1 cup cooked chickpeas
Olive oil
¼ tsp sea salt, to taste
Black pepper
½ cup water
Radish, sliced, to serve (optional)
Pomegranate seeds, to serve (optional)
Edible flowers, to serve (optional)
Preheat oven to 200°C.
Cut off outer leaves of cauliflower but don't throw out. Cut into florets roughly the size of 1–2 thumbs, slicing up stem also.
Place florets, stem and leaves (slicing any particularly thick or large leaves into smaller pieces) into baking dish with lid.
Drizzle with olive oil and sprinkle with sea salt and black pepper, tossing to combine.
Bake with lid on for about 15 mins, until it begins to soften.
Remove lid and spread out cauliflower.
Drizzle a little olive oil and sea salt over ½ cup of chickpeas and add to roasting cauliflower.
Continue cooking for around 20 mins or until cauliflower is completely tender and golden-brown. You will probably need to remove some leaves or chickpeas earlier as they will cook more quickly.
Remove from oven and pick out chickpeas and smaller leaves to use as garnish.
Transfer rest to blender with remaining ingredients and blend. Add more water if you need a runnier dip.
Taste and add extra sea salt or lemon juice, as desired.
Place in bowl and garnish with remaining roasted chickpeas, sliced radish, pomegranate, edible flowers and extra olive oil, as desired.