Crispy Vegetable Pilaf with Chickpeas and Preserved Lemon Recipe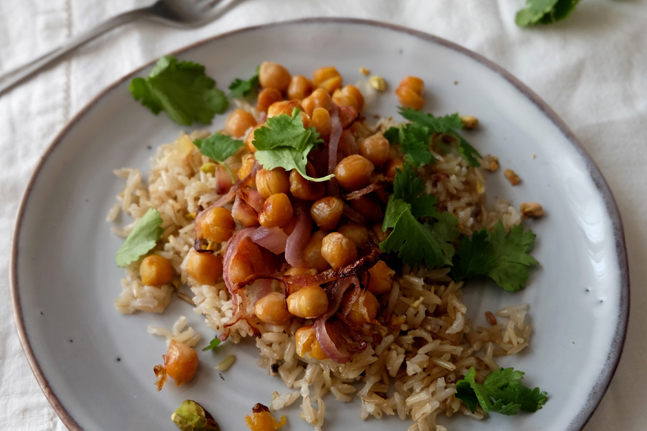 Credit: Meg Thompson
This is even quicker if you have the rice left over from a previous night and ready to go. Simple with delicious flavours, this dish is full of fibre, protein, magnesium and B vitamins.
Serves: 4
80g uncooked brown basmati rice
2 cardamom pods, crushed
¾ cup chickpeas
1 tbsp coconut oil, butter or ghee
25g pistachios, chopped
1 segment preserved lemon, thinly sliced
½ bunch coriander, leaves only
Lemon juice, to serve
Cook brown basmati via absorption method with cardamom pods.
Once ready, fish out cardamom pods and scrape out seeds into rice, discarding husks.
Heat frypan on medium-high and add chickpeas and drizzle of oil.
Fry chickpeas, stirring frequently until they just begin to gain some crispiness to the outside, then transfer to plate and set aside.
Replace frypan over heat and add oil or ghee.
Spread cooked rice over bottom of pan and leave to sit for around 5 mins until rice begins to caramelise on bottom.
Give it a short stir and allow to sit and caramelise again.
Add pistachios and lemon and stir though.
Taste and add squeeze of lemon juice to taste.
Transfer to serving plates, top with chickpeas and finish with good helping of fresh coriander leaves.