Lamb Koftas Recipe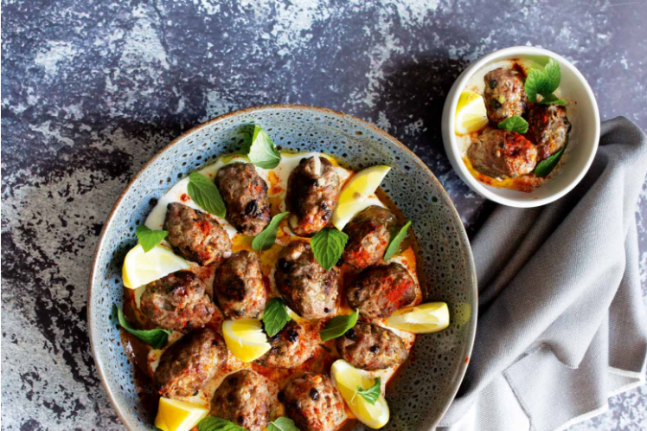 Credit: Danielle Minnebo
This is a colourful and tasty dish to serve when you have a group of people over for dinner. You can serve it as a starter or as part of a main with some flat bread, hummus and haloumi. These Lamb Koftas are a crowd-pleaser!
Serves: 4
500g organic lamb mince
½ red onion, finely diced
¼ cup currants
1 tbsp dried mint
1 tbsp ground cumin
1 tsp sea salt
1 egg
¼ cup almond meal
3 tbsp olive oil
1 cup Greek yoghurt
1 lemon, cut into segments
¼ cup fresh mint leaves
1 tsp smoked paprika
Add lamb mince, red onion, currants, dried mint, cumin, sea salt, egg and almond meal to bowl. Mix together until well combined. Take small amount of mixture and shape into oval shape, continuing until you have used up all mixture and have approx. 20 koftas.
Heat 1 tbsp olive oil in large frypan and add koftas, making sure not to overcrowd pan and leaving some space between koftas. Cook on each side for 6 mins on medium heat until golden-brown and cooked through. Continue process until you have cooked all koftas.
To serve koftas, use large flat serving plate. Spread Greek yoghurt along bottom and place koftas in yoghurt around plate. Place lemon segments in between koftas and scatter over fresh mint leaves. Sprinkle over smoked paprika for colour and serve.