Raw Mexican with Walnut and Jalapeño Pesto, Cumin Sprouts and Salsa Recipe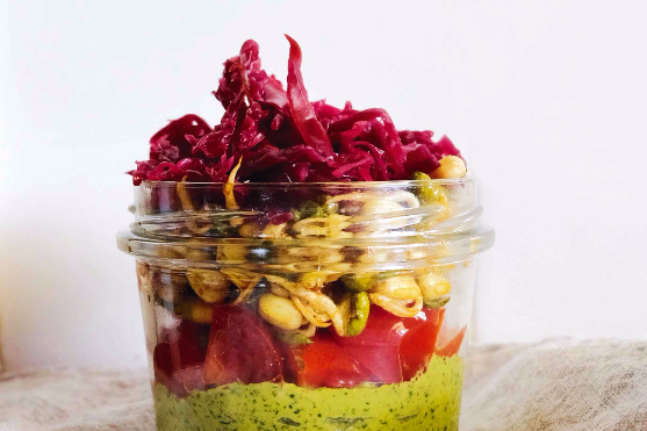 Credit: Meg Thompson
Mexican flavours come together here, bringing a whole host of absorbable nutrients. The leftover pesto is wonderful as a spread, as a salad dressing or, if you're not eating raw, then on eggs, too.
Serves: 1, plus extra pesto
Pesto
½ cup walnuts
2 jalapeño chillies (deseeded if preferred)
1 bunch coriander, thick stems removed
1 clove garlic, peeled
1 tbsp nutritional yeast
¼ tsp sea salt
¼ cup olive oil


Sprouts
¼ cup sprouts of choice
¼ tsp ground cumin
½ tsp tamari
1 tsp olive oil


Salsa
1 small tomato, or 3–4 cherry tomatoes
1 tsp chopped red onion
1 tsp olive oil
½ tsp lemon juice
For pesto, place walnuts in food processor and process to coarse crumb.
Add remaining ingredients and blitz to combine.
For sprouts, combine all ingredients in small bowl.
For salsa, dice tomatoes and combine all ingredients in small bowl.
To serve, arrange on plate or layered in jar, as pictured, topped with a generous spoon of sauerkraut if desired.