Rocket, Toasted Quinoa & Walnut Salad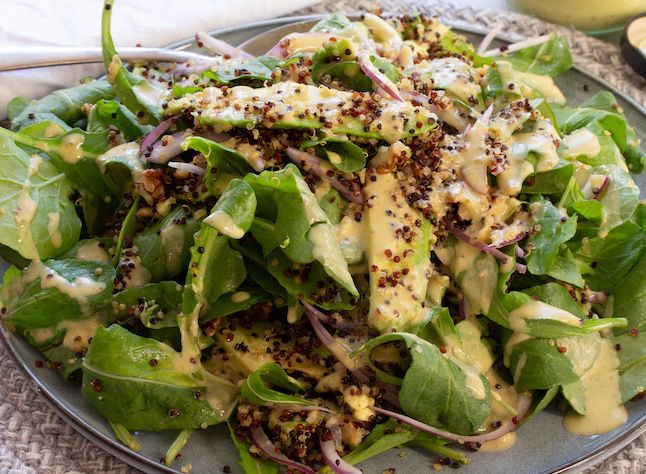 Rocket Toasted Quinoa Walnut Salad
One cup of quinoa will provide you with 8 grams of protein. Quinoa is also a rich source of magnesium, B vitamins, potassium and calcium. Make sure you use day-old cooked quinoa for this recipe.
Serve with this Medjool date dressing.
Serves: 4 as a side dish
GF, V, VG
3 tbsp olive oil
1 cup cooked quinoa
60g rocket leaves
½ red onion, thinly sliced
1 avocado, thinly sliced
⅓ cup walnuts, chopped
¼ cup Medjool date dressing
Heat olive oil in large frying pan over medium heat, add cooked quinoa and toast for 5 mins, stirring constantly to prevent it sticking. Remove from pan and set aside.
Place rocket, red onion, avocado, walnuts and toasted quinoa in large bowl. Add dressing and gently toss together until combined. Serve.