Shakshuka Recipe
Credit: Lee Holmes
A beautiful brekkie served straight from the pan, this is a wonderful way to enjoy a communal breakfast with loved ones. Shakshuka celebrates the flavours of the Middle East and North Africa and is one of my favourite ways to jazz up the humble egg. Loaded with medicinal spices and bursting with lycopene, this delicious dish won't fail to impress.
Serves: 4
2 tbsp olive oil
2 leeks, washed & sliced
3 cloves garlic, peeled & finely sliced
2 red capsicums, deseeded & finely sliced
Pinch chilli powder
1 tsp ground cumin
3 fresh bay leaves
Sea salt & freshly ground black pepper
1 tsp tomato puree
2 × 400g tins chopped tomatoes
4 large eggs
2 tbsp fresh coriander, to serve
Heat oil in large frying pan on high heat.
Add leek, garlic, capsicum, spices, bay leaves and seasoning, stir, and cook for about 10 mins until capsicum is softened and spices are fragrant, stirring often.
Add tomato puree and tinned tomatoes, roughly mash into mix and bring to boil. Reduce heat to low to reduce sauce, then season to taste.
Make divets in sauce and crack eggs into mixture, then cover and let cook for about 3 mins until eggs are cooked to your liking. The yolk should be soft. If you cook too long, just scramble into dish.
Serve from frying pan topped with fresh coriander.

Discover organic at our Wellbeing Directory

Like what you read? Sign up for a weekly dose of wellness






MORE INSPIRATION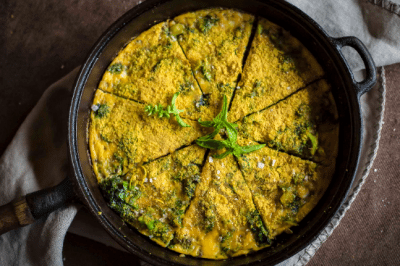 Green-Eyed Frittata Recipe
This delicious recipe is loaded with spinach, kale and broccoli, which are all rich in micronutrients that are great for...