Soba Noodles with Prawns & Edamame Recipe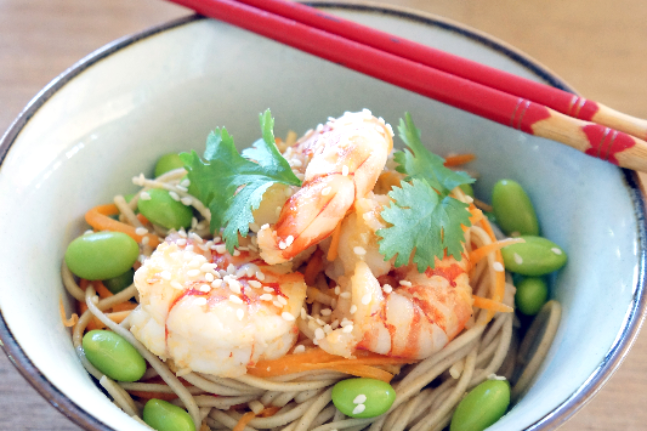 Credit: Christie Connelly
The secret to this warm noodle dish is to add the dressing right at the end so it still tastes fresh. You can substitute the soba noodles with spiralised zucchini or rice noodles to make it gluten-free.
Serves: 4
270g soba noodles
1 tbsp sesame oil
2 tbsp soy sauce or tamari
1 tsp grated ginger
Juice 1 lime
2 tbsp coconut oil
1 clove garlic, finely chopped
1 red chilli, sliced
800g whole green prawns, peeled
1 large carrot, shredded
1 cup edamame*
1 tbsp sesame seeds, to garnish
Coriander leaves, to garnish
Boil noodles according to packet directions then refresh in cold water and set aside. Whisk together sesame oil, soy, ginger and lime juice in small bowl and set aside.
Heat large, deep frying pan and add coconut oil, garlic and chilli. Cook for 1 min until fragrant, then add prawns and cook, stirring often for 3–4 mins until prawns change colour and are just cooked through.
Remove from heat and add noodles, shredded carrot, edamame beans and dressing. Mix with tongs to combine. Serve in bowls garnished with sesame seeds and coriander leaves.
*You'll need 200g of pods to get about 1 cup of beans. You can buy edamame in packets in freezer section near peas at most supermarkets.

Discover organic at our Wellbeing Directory

Like what you read? Sign up for a weekly dose of wellness