Strawberry and Chia Roll-up Recipe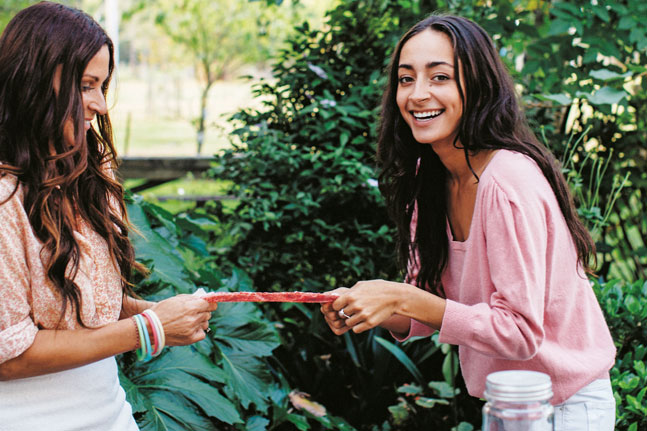 Credit: Lee Holmes
These are a great way to get kids eating more natural fruit. Don't be scared to play around with different flavour and fruit combinations. You can even use frozen fruit. Once you've chosen your fruit or, combine them with omega-3 rich chia seeds.
Makes: 12
500g strawberries, hulled & halved
2 tbsp chia seeds
2 tbsp rice-malt syrup or stevia powder, to taste


Other Great Combinations
Raspberry & mango
Apple & sweet potato
Peach & banana
Strawberry & basil
Raspberry & vanilla
Apricot, cinnamon & turmeric
Preheat oven to 65°C or its lowest temperature and line 2 baking trays with baking paper.
Combine all ingredients in food processor and pulse for about 30 secs, until puréed. Pour onto baking trays and spread out evenly with spatula.
Dry in oven for at least 3 hrs, until mixture is no longer sticky, and consistency is leathery but not crisp (see tip below).
Cool to room temperature, then either slowly peel fruit off baking paper or use sharp knife or pair of scissors to cut into portions with paper still on to stop them sticking. Store in airtight container in fridge for 3–4 days. When ready to use, roll up portions and secure with string.
Tips: To test whether your fruit roll-up is ready, pick at a corner and start to peel it slowly off the paper. If it pulls apart or seems sticky or damp, it needs to go back in the oven. To make the other flavour combinations, replace the strawberries with the same volume of the suggested ingredients, and combine with the chia seeds and rice-malt syrup in the same way.