Tomato Soup Recipe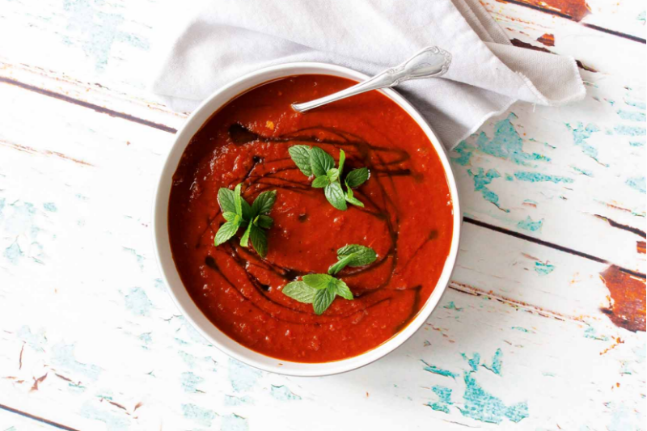 Credit: Danielle Minnebo
Tomato soup makes the perfect fourth course. It's a light meal, can be packed full of vegetables and can be served with a poached egg as a source of protein.
Serves: 4
2 tbsp olive oil
1 red onion, finely diced
1 clove garlic, crushed
1 tsp sea salt
2 tsp smoked paprika
1 tbsp tomato paste
2 cups vegetable stock
750mL passata
2 tbsp balsamic vinegar
1 tbsp coconut palm sugar
¼ cup flat-leaf parsley leaves
Heat olive oil in large saucepan over medium heat. Add onion, garlic and sea salt and allow to cook for 5 mins, until softened. Add smoked paprika and tomato paste and cook for further 2 mins. Make sure you keep stirring mixture to avoid burning on bottom.
Add stock, passata, balsamic vinegar and coconut palm sugar, mix together well, cover with lid and simmer for 30 mins over low heat.
Serve topped with another drizzle of balsamic vinegar and fresh flat-leaf parsley.