Vegan banana berry muffins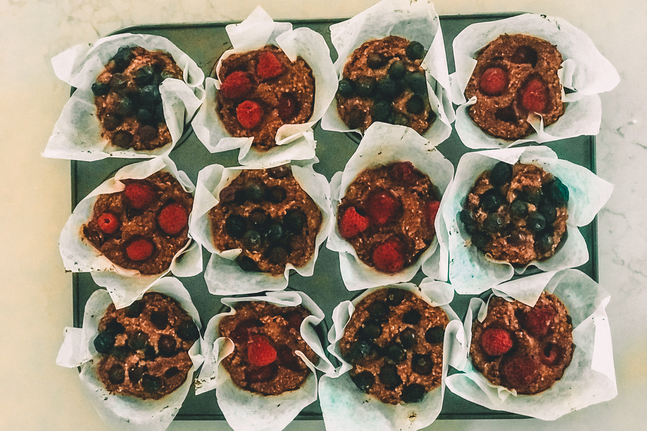 Vegan banana berry muffins
I love this recipe for vegan banana berry muffins — it is wholefood, plant-based and vegan. Now you can eat cake every day and feel good!
Makes: 12 muffins
1 cup fresh Medjool dates, pitted & chopped
½ cup hot water
3 large very ripe bananas, mashed
2 tbsp maple syrup
½ cup apple purée
2 tsp vanilla essence
2½ cups rolled oats, blitzed to flour in blender or oat flour
2 tsp baking powder
1 tsp bicarbonate of soda
1 tsp ground cinnamon
1 × 125g punnet fresh blueberries
1 × 125g punnet raspberries
Preheat oven to 180°C.
Place greased baking paper into each hole of 12-hole muffin tin.
Combine half chopped dates and ½ cup hot water in small bowl. Stand for 10 mins to soften dates.
Place mashed bananas, soaked dates with soaking water, maple syrup, apple purée and vanilla essence into blender and blend until smooth. Set aside.
In large mixing bowl, place oat flour, baking powder, bicarb, cinnamon and remaining chopped dates. Mix well, then add banana mixture and mix well with a fork. Pour into prepared muffin tin.
Mix berries and distribute evenly into each of the muffins, pushing into muffin batter.
Bake for about 30 mins. Remove from oven and muffin tin and place on cake rack to cool.
MORE INSPIRATION
Nourishing Breakfast Bowl Recipe
Loaded with greens, wholesome brown rice, sweet potato, satiating eggs and a zesty tahini-based dressing, this nourishing breakfast bowl offers...