Zucchini Chips Recipe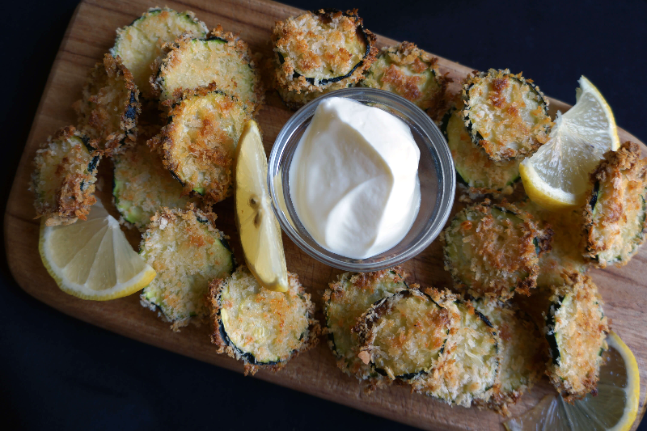 Credit: Christie Connelly
Who says chips can't be healthy? Think outside the potato square and make yourself a crunchy snack that's also a delicious serve of green vegies. Panko breadcrumbs are super-crispy Japanese-style breadcrumbs, but feel free to substitute any you have to hand, or make it gluten free by using quinoa flakes or polenta instead.
Serves: 4 as a snack
2 eggs
¼ cup milk of choice
Salt & pepper
100g panko breadcrumbs
1 tbsp lemon zest
4 medium zucchinis, sliced into thin discs
¼ cup melted coconut oil
Lemon wedges & coconut yoghurt or tahini, to serve (optional)
Heat oven to 200°C.
Whisk together eggs and milk in wide, shallow bowl. Season with salt and pepper.
Place panko breadcrumbs and lemon zest in another wide, shallow bowl and stir to combine.
Dip each zucchini chip in egg mixture then breadcrumb mixture and place on baking tray lined with non-stick paper.
Brush or drizzle with coconut oil and cook for 15 mins until golden. Flip and brush or drizzle with a little more oil and cook for a further 5 mins.
Serve immediately with lemon wedges and yoghurt or tahini for dipping, if you like.