An irresistibly delicious, award-winning blend, created by brothers Will & Eddie, from the Brook family to yours. A contemporary mix of the world's finest nuts including sustainably sourced Australian macadamias, pistachios, almonds and pecan, and then oven roasted with a hint of maple syrup and a light dusting of pink lake salt.
High in good fats, this premium grade whole roasted Entertainer mix is ready to share with family or friends any day of the week.
Fodbods Peanut Choc Chunk Bars are delicious gut-friendly health bars. Fodbods are made in Australia from 100% natural plant-based ingredients and formulated with dietitians to ensure optimal nutritional benefit. They're also gluten-free and certified FODMAP friendly so there are no tummy aches or bloating. Best of all, they taste incredible – the crunchy peanuts and chunks of decadent dark chocolate make them the perfect guilt-free treat.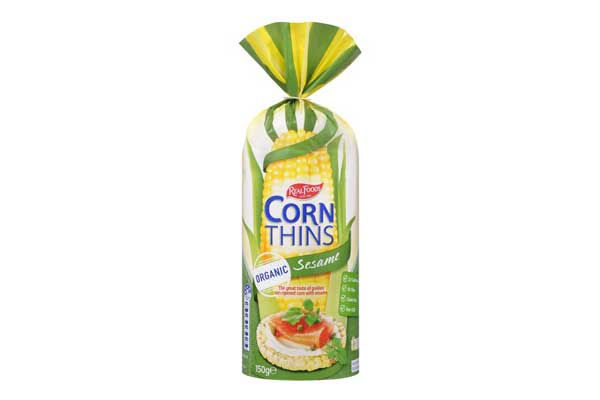 Looking for a snack that's healthy but not boring? Crispy & tasty, but also good for you? No need to compromise! Real Foods CORN THINS are both delicious and diet-friendly because they're made from corn. Imagine the glorious taste of sun-ripened Organic maize, with added Sesame popped then pressed into a crispbread slice. With CORN THINS you get all the delicious taste of popcorn –- with none of the mess. They're healthy, too: all-natural ingredients and 8% fibre. Real Foods CORN THINS are the great-tasting snack you can enjoy every day, in lots of creative ways. Try them on their own, or with any number of delicious toppings, for example; Grilled mushrooms, spinach and grated Parmesan cheese.
Made from super nutritious organic black, brown and red rice, these crispy savoury mini rice cakes are naturally popped, not fried and have no added nasties. At 5 calories per cake they are a deliciously healthy snack. Curb those 3pm desk peckish cravings, entertain on a pre-dinner grazing platter with delicious cheeses & dips, or throw in the […]
Subscribe
Subscribe to a newsletter to receive latest post and updates