Discovering Australia: Camping, paddling and finding hidden gems in the Katherine
We spend three days paddling the Katherine River to fall in love with its thrilling rapids, sheer-rock gorges and palm-fringed thermal pools.
I'm about to close in on "Slippery Nipple" which, before you get excited, is a tricky little river rapid, not the very delicious drink. In fact, I'm about as far away from a cocktail bar as you are ever likely to be, staring down a tight squeeze of whitewater studded with precariously protruding boulders that snag the Katherine River's flow.
I dig in my paddle, push off into the current and in a spray of white water, bounce my way through the rapid, sliding over slippery river stones into the deep pool below. My tiny triumph has me beaming, despite an audience of just one — seasoned river guide Mick Jerram, who is looking on somewhat relieved that I haven't wrecked his boat. Downstream I go, dipping my paddle along a truly remote stretch of the Katherine River that few people see.
A three-hour drive south of Darwin, the Katherine River stretches for 328 kilometres, carving a rugged path through 13 barely accessible sheer-rock gorges, and bubbling through palm-fringed thermal pools before surging into what sailors call the Joseph "blown-apart" (Bonaparte) Gulf.
The part of the river that woos most travellers is found deep inside Nitmiluk (pronounced Nit-me-look) National Park where you can hike riverside trails, take a boat cruise and paddle upriver in search of seasonal waterfalls and Indigenous rock art.
But it is far downstream of Nitmiluk's sunrise lookouts and plunging cliffs that our adventure begins. Here, the Katherine's riverside scenes are transformed by white sand beaches and shady river gums and are crowded with an abundance of wildlife found only in Australia's rugged far north.
To see this slice of Top End magic, our little band of city escapees must go decidedly wild. We sleep in swags, dine on campfire-roasted barramundi and brave both kinds of crocodile that inhabit the Katherine's deep, murky pools. For three days and two of the starriest nights imaginable, we explore, swim, spill our boats, retrieve wayward paddles and sip red wine around campfires, and without even noticing it, discover that we have left our worries far, far behind.
An easy escape
The trip begins with a single phone call, and the next day our family trio is packing two tiny dry bags with a change of clothes each, plenty of sunscreen and a couple of bottles of red wine. We hit the road south to Katherine.
Here we meet up with Jonathan and Steph, a pair of doctors on a break out of Darwin Hospital, and Jerram, who heads Gecko Paddling and Trekking and knows the river better than anyone. He might run the company but he's the kind of man who rises cheerfully on a riverbank at 4am to rekindle last night's fire, roll a damper and brew coffee while city slickers sleep.
Together, we pile into a 4WD bus that delivers us to the water's edge at Crystal Rapids, a shady fishing hole just outside of Katherine that's full of the black bream and barramundi that locals love to cook up on riverside campfires. Back in 1862, Red Centre explorer John McDouall Stuart named the river after Catherine Chambers to appease her father and his expedition sponsor, and today the town that has grown up on its banks shares the name.
The Katherine's riverside scenes are transformed by white sand beaches and shady river …
We fill our flotilla of canoes and kayaks with a mountain of swags and cooking gear, fresh food and a satphone, don lifejackets and grab our paddles. Far downstream, the Katherine swells the mighty, murky Daly River, but there is nothing fierce about the clear eddy where our journey west begins.
I push off and find my own pace, gliding through deep, long waterholes beneath a blazing mid-morning sun. Up front in the beamy Canadian canoe, my eight-year-old daughter Maya is powering away, spotting freshwater crocodiles lazing on fallen tree trunks. Overhead, enormous great-billed herons take flight with booming flaps of their wings, amplified by the silence.
This tranquil drifting lasts all morning until Mick calls us ashore to strike a stick campfire for billy tea and fill our bellies with fresh sandwiches and fruit. Afterwards, we slide back into the river and point our boats west, meandering long into the afternoon to end the day on a sandy bank at Millsy's Channel.
Sandy swags and campfires
While Maya gathers firewood (to toast the marshmallows we have stashed on board), I set about unrolling swags on the riverbank and stringing up wet clothes on a makeshift line. I duck behind a tree with the shovel for a stint of "leave-no-trace toileting" and ponder the distinct lack of privacy among these good people who have yet to become friends.
I haven't slept in a swag since I was a kid and there's a reason for that. It's not my bed of choice and, as I shoo away a hairy huntsman spider that makes a dash for my pillow and shake out sand, I'm reminded why.
Those who love swags say that there's a real upside — hearing the bush more clearly, feeling the cool night's breeze on your cheek as you sleep — but I don't know this yet. I change into dry clothes and pour myself a glass of red.
There are nibbles and chats as the sun dips below the crowded canopy of paperbarks, plunging our little band of paddlers into darkness and turning our attention towards the glow of the campfire. The menu is a mix of baked barramundi and spicy tofu, salads and roasted vegetables and finished with toasted marshmallows around the fire. It's all incredibly delicious, as food usually is when you are genuinely hungry.
The next morning, I wake at first light to the sight of our guide Mick moving silently around camp with his head torch on, rekindling last night's coals. I snuggle deeper into my swag with only the tiniest pang of guilt, watching the stars fade one by one. When the aroma of good, smoky coffee hits the air, I'm up and packing and filling my plate with fried eggs and buttery toast.
Running rapids
As day two dawns, I find the river entirely changed. There are small rapids — short, wildly turning and precariously shallow — but whitewater, nonetheless.
The river level, Jerram tells me, is at its midwinter low, drained by thirsty riverfront residents and too slowly replenished by a wet season that never really came. This turns our three-day paddle into a fairly gentle, downstream slide, peppered with jaunty little rides that spike our adrenalin.
We take on Boat Cruncher, Dead-Mans Drop and Dogleg Rapids, dropping into long, deep waterholes and swerving past prickly overhanging pandanus palms and towering trees felled by some fierce, long-ago, wet season flow.
There are side-swiping thrills and more than a few spills, lost paddles and laughs, and all of it is boat-crunching good fun. With Jerram coaching from the sidelines, we tackle each challenge in turn and tiny improvements are made. None of us linger in the water for long though, because both kinds of crocodiles call the Katherine River home.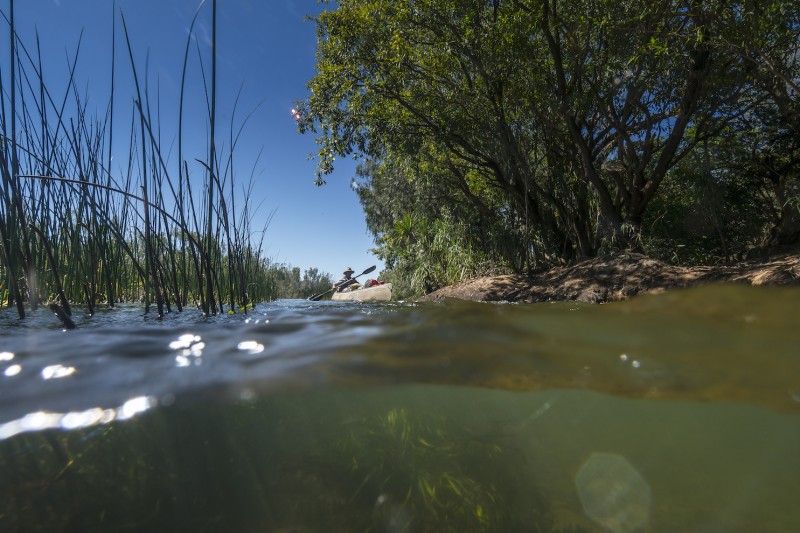 Spotting crocs
Freshwater crocodiles only as long as my forearm bask in the sunshine on fallen logs that stretch out over the river. They splash swiftly away when we pass, bolting for the camouflage of the turbid water. But it's the estuarine crocodiles that dominate the food chain here, and despite no known attacks on the river in living history, cautious behaviour is paramount.
Having already paddled silently past an enormous steel cage crocodile trap, Jerram suddenly calls us to catch up and keep moving. "Hey guys, a saltie's just slid down into this pool so we'll just move on through and leave it be." The thick slide mark scoured into the muddy riverbank betrays its significant size.
As I power away, I can't shake the words of the late, great croc-hunter Malcolm Douglas who once gave me some sage advice: "It's not the croc you can see that you need to worry about. It's the one you can't see that will get you."
Every year, NT Parks and Wildlife rangers set floating crocodile traps on the Katherine River: massive steel cages capable of luring and containing 5-metre-long beasts. In August 2020, a 3.3-metre-long saltie was snared just 55km from town. In the same week, a truly magnificent crocodile took the bait on the Flora River that joins the Katherine, weighing in at 350kg and stealing headlines with its tremendous, 4.4-metre-long size.
Like elsewhere across Australia's north, estuarine crocodiles — the misnamed "salties" — are simply part of the scenery. Culled to near extinction up until the 1970s, these superior prehistoric hunters bite down with a force of 3700 PSI, a strength that palaeontologists believe rivalled the tyrannosaurus rex.
Salties have excellent eyesight, a keen sense of smell and the ability to detect and hunt down prey in the murkiest of waterways. What's more, they study their prey with patience and attack with precision, slowing their heart rate to two to three beats per minute while they remain underwater and out of sight.
They watch what we do and adapt their attacks to our routines and patterns, proving there is nothing random about how a crocodile operates. I have a great respect for crocodiles, and although I regularly adventure into their territory, I have no trouble staying out of their way.
Rinse and repeat
After the thrills and spills of a long day on the water, the scenic sweep of sand at Fruitcake Rapid provides a stunning campsite for the night. I unroll our damp swags in the sunshine and head back to the water's edge to laze in the clear shallows and bask in the dying sunlight, relishing that lovely weariness that comes from a day spent pulling at the river's flow.
In a delicious repeat of the previous night, there is cheese and red wine at sunset, roasted beef and flame-kissed vego burgers, and marshmallows toasted over the hot coals of the campfire. Our little group pulls chairs close to the fire, watching the starry night blazing overhead and sharing stories until we are all overtaken by the exhaustion of the day.
At first light the next morning I am wide awake, scribbling in my diary as breakfast damper bakes. We devour it slathered with butter and golden syrup and hit the water smiling. The final paddle to CSIRO Hole is braided and shallow, the riverbanks verdant and filled with birdsong. After lunch, we find a shallow pool separated from the rest that's clear enough for swimming and we all throw ourselves in. I sip a mug of hot black tea, which I never seem to enjoy at home, and ponder small pleasures.
After dozens of hikes and paddles along the Katherine River over the years, I thought I'd got to know this wild stretch of waterway. But this secluded downstream run has proved me wrong. Only far from the madding crowds, well outside popular Nitmiluk National Park's boundaries, have I found the serenity I'd been missing.
Slowly ebbing towards the sea, drifting silently through a landscape of small and magical charms reminds me yet again that there is refuge on a river. Adventures in these wild and uncrowded places are well worth tackling, even when you know there's going to be sand in your swag.
Escape routes
Go: Katherine is located 315km south of Darwin on the Stuart Highway. Gecko Canoeing and Trekking runs all-inclusive two- to six-day river safaris, priced from $550/person (geckocanoeing.com.au).
Stay: Bookend your paddling adventure with a stay in Nitmiluk National Park. Choose a one-bedroom cabin (from $247/night), powered campsite (from $56/night) or a room at Cicada Lodge (from $571/night). On the Katherine River, deluxe cabins at Manbulloo Homestead cost $150/night (manbulloohomesteadcaravanpark.com.au).
Plan your trip: From April and October.
Don't miss: A croc-free freshwater dip at Leliyn (Edith) Falls, 60km northeast of Katherine.
Contact: visitkatherine.com.au.