Cauliflower and Turmeric Brown Rice Recipe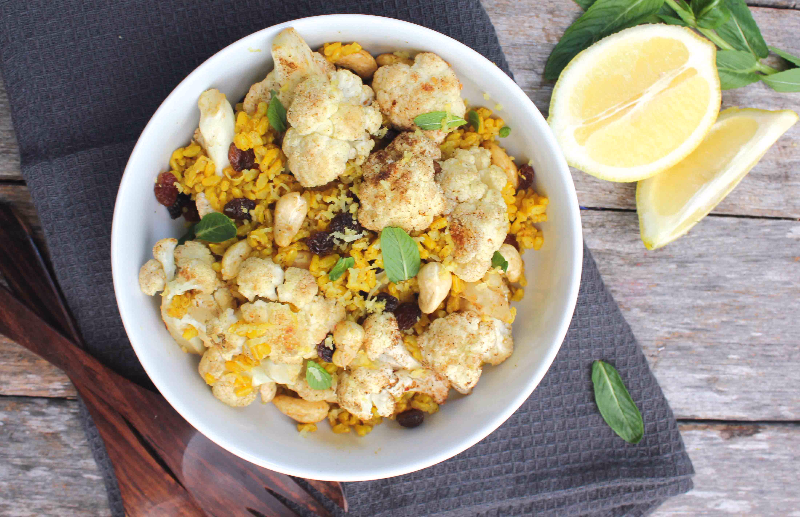 Credit: Lisa Guy
Eating cauliflower regularly will help boost your vitamin C levels and promote better collagen production, healthy adrenal function and strong immunity. Cauliflower also supplies plenty of vitamin K, needed for healthy bones and blood clotting and a great source of sulphur compounds, which assist liver detoxification and are needed to make glutathione, our main antioxidant in the body. The super spice turmeric contains high levels of a compound called curcumin, which has powerful antioxidant and anti-inflammatory actions. Adding turmeric to meals regularly is a great way to help improve your liver function and protect against cardiovascular and other chronic diseases.
Serves: 2–4
¾ cup uncooked brown rice
2 cups vegetable stock
½ tsp turmeric
½ tsp chilli flakes
½ tsp ground cumin
½ tsp ground coriander
Pinch sea salt & pepper
½ tsp garam masala
400g cauliflower, cut into small florets
2 tbsp olive oil
⅓ cup cashews, toasted
¼ cup sultanas
Handful fresh mint, roughly chopped
Juice & zest 1 lemon
Preheat oven to 200ºC and cover baking tray with baking paper.
In medium saucepan, cook rice in vegetable stock with turmeric for around 45 mins or until rice is soft and cooked through. (Soaking rice overnight improves its digestibility and speeds up cooking time.)
In small bowl, combine chilli, cumin, coriander, salt, pepper and garam masala.
In medium bowl, toss cauliflower with spice mix and lay cauliflower out on baking tray.
Drizzle with olive oil and put in the oven for 30 mins.
When rice and cauliflower are cooked, place them in large bowl.
Lightly toast cashews in small frying pan and add to rice mixture.
Add sultanas, mint and lemon zest and juice and toss gently until well combined. Serve hot or cold.

Discover organic at our Wellbeing Directory

Like what you read? Sign up for a weekly dose of wellness