Chicken, Apple and Celery Salad Recipe
Credit: Danielle Minnebo
Poaching is a delicious way to cook chicken so it's soft and tender. If you don't have time to poach the chicken, you can always buy a roast chicken and strip the meat from it to use in this salad.
Serves: 4
1L water
½ onion
3 bay leaves
2 free range organic chicken breasts
2 apples, cored & diced
2 stalks celery, diced
½ cup currants
½ cup homemade or store-bought mayonnaise
Pinch sea salt & pepper
¼ cup chopped flat-leaf parsley
Add water, onion and bay leaves to pot over medium heat and bring to simmer. Add chicken breasts, making sure they are completely submerged. Simmer for 40 mins until chicken is cooked. Remove breasts from pot and allow to cool while you prepare rest of salad.
Add apple, celery, currants, mayonnaise, sea salt, pepper and parsley to large bowl and mix until combined.
Cut chicken breast into cubes and add to salad. Mix together well and store in fridge until ready to serve.

Discover organic at our Wellbeing Directory

Like what you read? Sign up for a weekly dose of wellness






MORE INSPIRATION
Prebiotic Tray Bake Recipe
Roasting is a great way to cheer up any vegetable that may have been left in the fridge too long....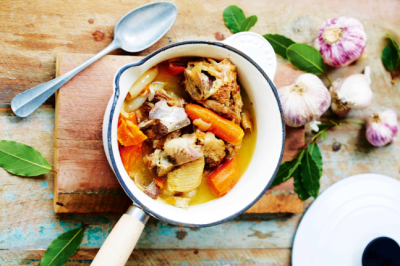 Lamb Broth Recipe
Lamb broth will provide similar nutritional benefits to your gelatin-rich beef broth, but with the comforting flavour of lamb to...
Raspberry and Lemon Mini Cakes Recipe
These delicious Raspberry and Lemon Mini Cakes would even work very well in an ovenproof mug for something very quick,...