Chickpea Vegetable Tagine Recipe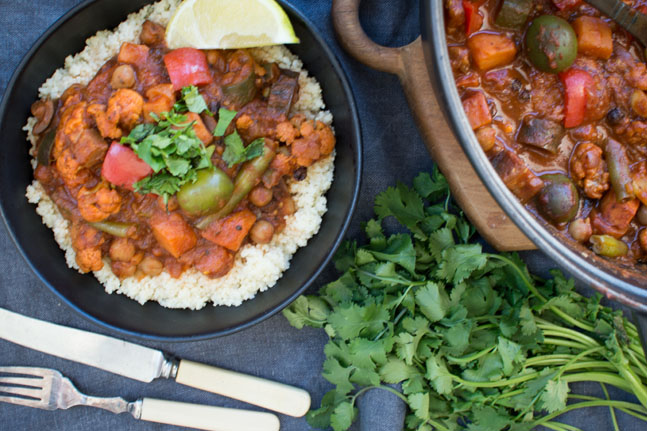 Credit: Georgia Harding
Science confirms that diets containing a diverse range of vegetables produce healthier gut bacteria. So while eating vegetables is important, eating a good variety is beneficial for your gut and also nutritionally. This tagine is one very nourishing pot of plant-powered goodness. Don't be put off by the long list of ingredients — remember that variety is a good thing. The method is really simple (just 30 mins of prep) and it produces a delicious, rich, hearty stew. Leftovers are delicious for lunch the next day.
Serves: 6
2 tbsp olive oil
1 onion, diced
4 cloves garlic, diced
5cm ginger root, finely grated
2 eggplant, diced
4 carrots, diced
1 zucchini, diced
2 sweet potato, peeled and diced
1 tbsp honey
425g chickpeas, drained & rinsed (or one cup cooked)
¼ cup currants
2 tsp ground cumin
2 tsp ground cinnamon
2 tbsp ground harissa
½ tsp ground turmeric
½ tsp smoked paprika
2 tsp sea salt
Grind black pepper
700g tomato passata
250mL stock or broth
2 cups cauliflower, broken into pieces
2 red capsicums, diced
Handful green beans, topped & tailed
½ cup green olives
Bunch coriander, chopped
1 lemon, quartered
In cast-iron saucepan or slow cooker, place olive oil, onion, garlic, ginger, eggplant, carrots, zucchini, sweet potato, honey, chickpeas, currants, spices, seasoning, passata and stock or broth.
Cover with lid and simmer slowly for 90 mins.
Add cauliflower, capsicum, beans and olives and cook for another 30 mins.
Serve over rice, couscous, buckwheat or quinoa with coriander and lemon wedges.