Green Jackfruit Curry Recipe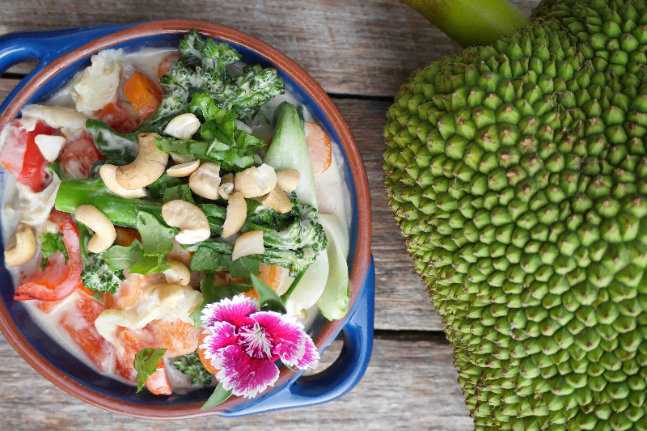 Credit: Lisa Guy
Jackfruit makes a good vegetarian meat substitute in curries and other dishes as it has a meat-like texture when cooked. Jackfruit is rich in dietary fibre and contains vitamin A, needed for healthy eyesight and B vitamins for nervous system health and energy production.
Serves: 4
Olive oil
1 onion, finely chopped
1 large carrot, sliced
1 bunch broccolini
½ red capsicum, sliced
3–4 tbsp green curry paste (depending on taste & desired heat)
400mL tin coconut milk
Tin jackfruit, shredded, or ½ fresh jackfruit, cooked & shredded*
1 zucchini, sliced
Bunch bok choy, roughly chopped
Handful coriander, roughly chopped
Handful toasted cashew nuts, roughly chopped
In large frying pan with olive oil, cook onion for 4 mins.
Add carrot, broccolini and capsicum, and cook for a further 5 mins.
Stir through curry paste and add coconut milk.
Add jackfruit and zucchini and cook, covered, for another 5 mins.
Add bok choy and cook for 3–4 mins, until it begins to go tender.
Serve topped with fresh coriander and toasted cashew nuts.
*To prepare fresh jackfruit, cut into thick slices. Jackfruit contains a sticky latex sap that sticks to your hands and knife. Wear gloves to stop it sticking to your hands and oil your knife so it's easier to clean. Cut into quarters, then place in a pot of boiling water. Boil for 20 mins, covered. Then remove skin and seeds and shred into pieces with a fork.