Okra with Kefir Lime, Coconut Rice and Sambal Recipe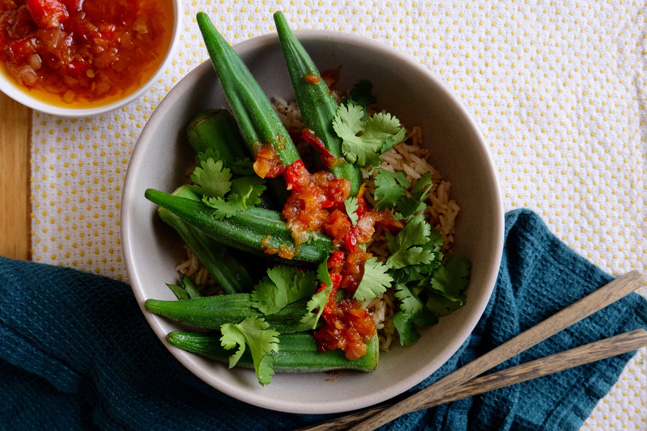 Credit: Meg Thompson
This recipe is based on one from Ottolenghi; I absolutely love the combination of the okra with this incredible rice! This is a very simple method of cooking the okra, which could be used with many different flavours. It's worth tracking down the kefir lime leaves as they really lift the entire dish.
Serves: 2
Sambal
2 red chillies (approx. 15g)
1 small brown onion, peeled & diced
1 small clove garlic, peeled
¼ tsp sea salt
3 tbsp olive oil
1 tbsp water
2 tsp brown-rice vinegar
2 tsp maple syrup


300g okra
150g basmati rice
¾ cup coconut milk
350mL water
3 kefir lime leaves
3 thin slices fresh ginger
¼ tsp sea salt
To make sambal, using mortar and pestle mash chilli, onion, garlic and salt until they come together into rough paste. Alternatively, you could use stick blender.
Add oil and stir to combine.
Heat small frypan over medium heat and add mixture. Turn heat down to low and cook, stirring frequently, for 6–7 mins.
Add water, brown-rice vinegar and maple syrup, stir, turn off heat and set aside.
To make coconut rice, rinse and drain rice and add to medium saucepan. Add coconut milk, water, lime leaves, ginger and sea salt and bring to boil. Reduce heat to low, cover and simmer for 12 mins. Turn off heat and let sit for 10 mins, covered.
While rice is cooking, prepare okra by slicing off just tip of stalk end so you remove hard end but don't expose seeds as this will change texture. For this dish, we want it to retain firmness.
Boil okra for around 3 mins, drain and refresh under cold water.
Once rice is cooked, remove leaves and ginger and fluff with fork.
Divide onto serving plates and top with okra and sambal.