Peanut Butter Smoothie Bowl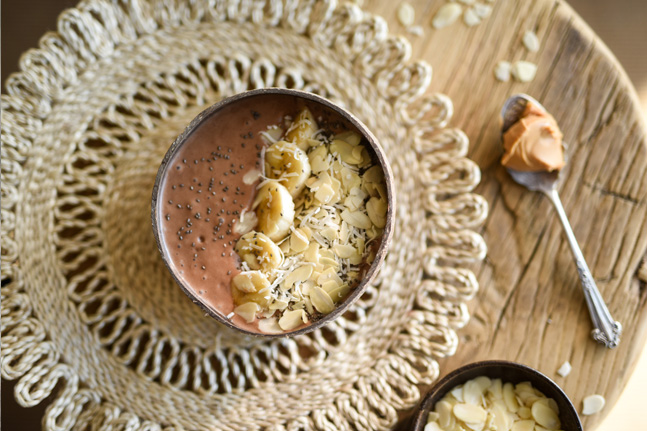 Credit: Lisa Holmen
You won't believe that something so delicious is actually good for you. This thick and super-creamy smoothie bowl is packed full of nutrients, antioxidants (to help fight those nasty free radicals) and protein. And the even better news? It's ready in just a few minutes. Make sure to choose a peanut butter with a low salt content or, if you're feeling extra game, make your own. Add a teaspoon of maple syrup if you prefer your smoothie bowl a little sweeter.
Serves: 2
2 frozen bananas
½ cup unsweetened almond milk
2 tbsp peanut butter
2 tbsp raw cacao powder
1 tbsp chia seeds


Toppings
Chia seeds
Banana slices
Coconut flakes
Place banana, almond milk, peanut butter, cacao powder and chia seeds in blender and blend until smooth or desired consistency is reached.
Serve in bowls and top with banana slices, chia seeds and coconut flakes.