Cinnamon Roasted Sweet Potato, Thyme and Goat Feta Muffins Recipe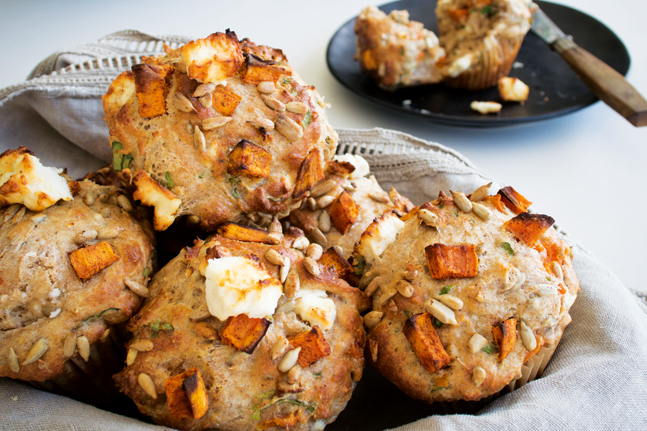 Credit: Georgia Harding
A wholesome one-handed snack, these delicious savoury muffins are perfect for a picnic. You can either make them ahead or bake them fresh. They are both nourishing and filling.
Makes: 8 muffins
2 cups sweet potato, peeled & diced
¼ cup sunflower seeds
1 tsp maple syrup
1 tbsp olive oil
½ tsp ground cinnamon
Pinch sea salt
½ cup grated parmesan
1 tsp thyme leaves
2 large free-range or organic eggs
¾ cup milk of choice
4 tsp baking powder
1 tsp sea salt
Good grind black pepper
2 cups wholemeal spelt flour
1 large handful baby spinach, chopped
100g goat feta (or regular feta), broken into chunks
Preheat oven to 200°C fan-forced.
On small baking tray lined with baking paper, place sweet potato and sunflower seeds. Add maple syrup, olive oil, cinnamon and sea salt and toss together. Arrange in single layer and bake for 15 mins.
In food processor or large bowl, place parmesan and thyme leaves and mix to combine. Add eggs and milk and beat for 10 secs until well combined and frothy. Add baking powder, sea salt and pepper and mix until just combined.
Fold in flour until almost combined (it's important not to over-mix or they will be heavy).
Add spinach, feta and baked sweet potato and sunflower seeds. Gently fold into batter.
Divide between 8 non-stick muffin cases and bake for 15 mins or until skewer inserted into middle comes out clean.
Enjoy warm or at room temperature slathered in butter.
Tip: for gluten-free, substitute the spelt with good-quality gluten-free flour.