Rocky Road Slice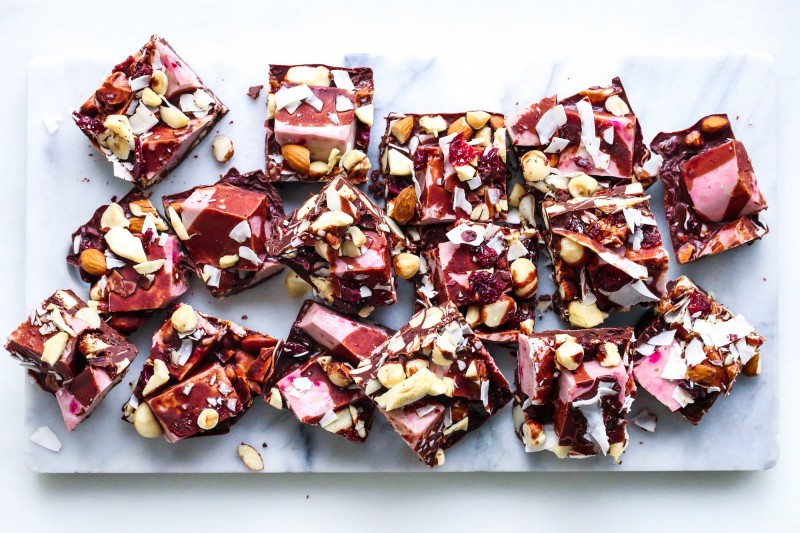 Rocky Road Slice
This rocky road is made from scratch and with good nutrition in mind. While this recipe definitely has a few more layers to the making, it's so worth it when you taste the result. Adults and kids love it and you can serve it with great confidence that you're delivering quality nutrition instead of a slice full of refined sugar.
Serves: 16
GF
Coconut Raspberry Marshmallow
3½ tbsp powdered grass-fed gelatine
⅓ cup cold water
½ cup frozen raspberries
1 cup coconut milk
2 tsp vanilla extract
2 tbsp rice-malt syrup or honey
Chocolate
¾ cup coconut oil
¾ cup raw cacao powder
3 tbsp rice-malt syrup, honey or maple syrup
Rocky Base
¼ cup hazelnuts
½ cup dried apple, cut into small pieces
¼ cup apple juice-sweetened cranberries
¼ cup almonds
¼ cup macadamias
½ cup flaked coconut
To make marshmallow, whisk together gelatine and cold water in bowl with fork. At this stage it should become gluey and hard.
Warm raspberries, coconut milk, vanilla and sweetener of choice in a saucepan until medium–hot, but not boiling. Once warm, add gelatine and whisk all ingredients together until smooth. Pour into lined loaf tin or rectangular dish and place in fridge to set for about 1½ hrs. When set, cut into small pieces.
To make chocolate, melt coconut oil gently on low heat. Remove from heat, and whisk in cacao and maple syrup until smooth.
To finish, layer half marshmallow pieces and half rocky base (nuts and fruits) over base of lined square or rectangular cake tin (approx. 20 × 20cm), pour over half chocolate and repeat.
Place in fridge to set for 1 hr.
Slice and serve direct from fridge.