Steamed Vegetables with Peanut Sauce Recipe
Credit: Adam Guthrie
Simple food is always the best. It's quick to prepare and perfect for you, so close to how nature intended us to eat it.
Serves: 4
Peanut Sauce
1 onion, finely diced
3 garlic cloves, crushed
1 chilli, finely sliced
1 cup roasted peanuts, roughly chopped
1 cup coconut cream
1 tbsp raw sugar
1 tbsp tamari sauce
½ lime, halved


1 carrot, cut into matchstick lengths
¼ cabbage, shredded
¼ red capsicum, finely chopped
¼ green capsicum, finely chopped
Handful sugar snaps, stringed
Handful baby spinach


Cooked brown rice, to serve
To make sauce, add onion, garlic and chilli to saucepan. Add ¼ cup water and sauté for 2 mins. Add crushed roasted peanuts, coconut cream, sugar and tamari. Mix well and cook for 5 mins over medium heat. Finish peanut sauce with squeeze of fresh lime juice.
Meanwhile, pour 1 cup water into wok and bring to boil. Place vegetables (except spinach) in wok and allow to steam.
Using tongs, add steamed vegetables to peanut sauce. Add spinach leaves and mix well. Place on platter and serve with brown rice.

Discover organic at our Welbeing Directory

Like what you read? Sign up for a weekly dose of wellness






MORE INSPIRATION
Raw Berry Cheesecake Recipe
This dessert is delicious, healthy, vegan and beautiful… What more could you want in a dessert?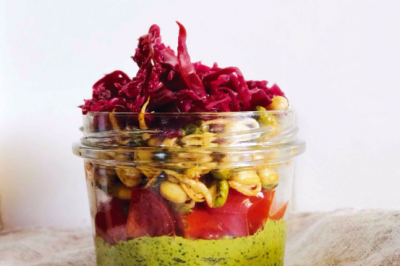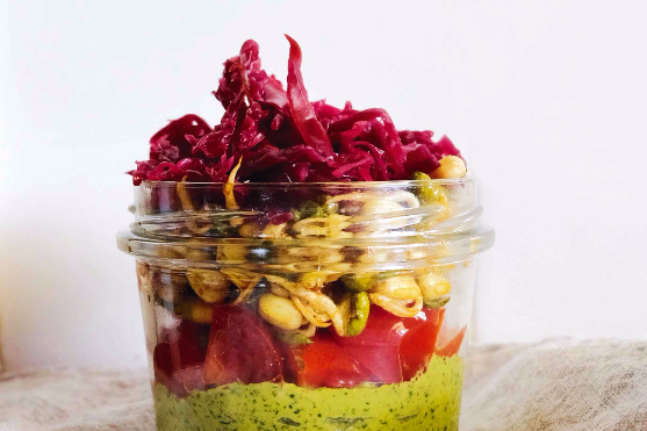 Raw Mexican with Walnut and Jalapeño Pesto, Cumin Sprouts and Salsa Recipe
This leftover pesto is wonderful as a spread, as a salad dressing or, if you're not eating raw, then on...
Beetroot Dip with Crudité Recipe
Here's a choose-your-own-adventure kind of meal, full of healthy fats and grounding protein. Enjoy, foodie friends!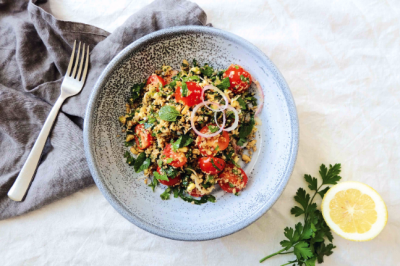 Raw Tabouleh Recipe
A delicious, raw take on a traditional favourite, this dish is jam-packed with goodness and is a little more "hearty"...