Thai mango salad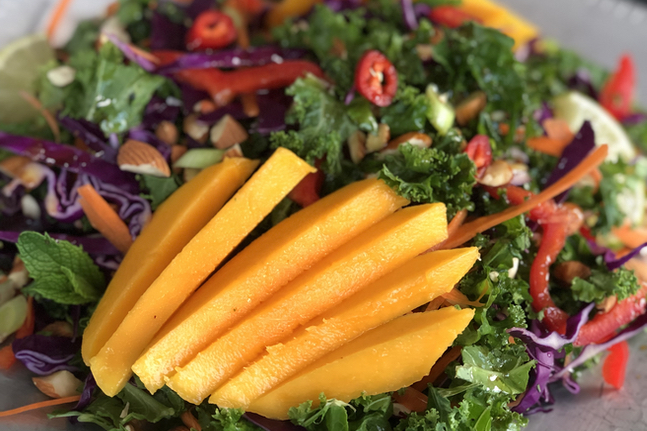 Thai mango salad
Mangoes are an excellent source of vitamin C, an important nutrient for healthy radiant skin and for the formation of collagen, the protein that gives the skin strength and elasticity. Mangoes also contain a phytonutrient called mangiferin that has been found to have anti-inflammatory properties and heart-protective health benefits.
Serves: 4
Dressing
1 tbsp tamari
1 tbsp sesame oil
3 tbsp lime juice
1 tbsp raw honey
3 tbsp water


4–5 large kale leaves, ribs removed & thinly sliced
1 ripe mango, sliced
½ small red cabbage, thinly sliced
1 large carrot, shredded
2 shallots, roughly chopped
½ red capsicum, thinly sliced
Handful almonds, roughly chopped
1 red chilli, sliced (optional)
Handful coriander, roughly chopped
Handful mint, roughly chopped
Combine all dressing ingredients in jar and shake well.
In large bowl add all salad ingredients (except mango) and toss gently with some salad dressing.
Place salad on serving dish and top with sliced mango and roughly chopped almonds.