Turmeric Vegetable Loaf Recipe
Credit: Danielle Minnebo
This is such a fantastic loaf! A slice of this Turmeric Vegetable Loaf for morning or afternoon tea provides you with a good serve of vegetables, protein, healthy fats and antioxidants from the turmeric and pumpkin.
Makes: 15 slices
1 onion, diced
200g raw grated carrot
200g raw grated pumpkin
¼ cup olive oil
2 tsp seeded mustard
6 eggs
1 cup brown rice flour or buckwheat flour
2 tsp turmeric
1 tsp sea salt
1 tsp baking powder
Preheat oven to 180°C. Grease and line bread tin.
Add onion, carrot, pumpkin, olive oil, seeded mustard and eggs to bowl and mix until combined. Then add remaining ingredients and mix again until combined. Pour mixture into lined bread tin and bake for 1 hour until golden brown and firm to touch.
Allow to cool before slicing. Best stored in fridge for up to 5 days.
MORE INSPIRATION
Chocolate Cherry Bites Recipe
These healthy chocolatey, cherry and coconutty raw, refined sugar-, gluten- and dairy-free treats are perfect bite-sized snacking.
Peppery Popcorn Recipe
Here's a quick and easy popcorn recipe that highlights the unique flavours of timut pepper well against a buttery, salty...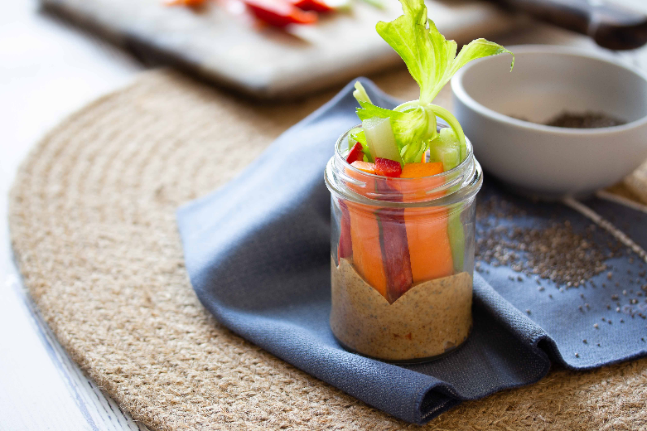 Healthy Nut Butter Jars Recipe
This is our favourite go-to snack for work. It travels really well in your bag and it makes the perfect...