Zucchini Fritters Recipe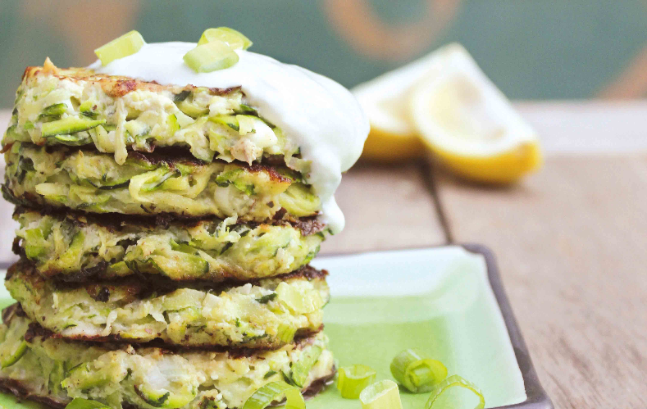 Credit: Lisa Guy
Zucchinis contain beneficial carotenoids including beta-carotene, zeaxanthin and lutein, which are potent antioxidants, beneficial for eye health and protection against age-related eye diseases. Feta is a great source of protein and calcium for bone health, and vitamin B12 required for healthy brain function and nervous system health.
Serves: 4
3 large zucchinis
1 tsp sea salt
½ cup almond meal
2 eggs
3 shallots, finely chopped
100g feta, crumbled
¼ cup roughly chopped parsley
1 tsp dried oregano
Grate zucchini and place in bowl. Sprinkle with sea salt and leave for 10 mins.
Grab handfuls of zucchini and squeeze well to remove any water. Then place zucchini in another bowl.
Add almond meal, eggs, shallots, feta, parsley and oregano, and mix until combined.
Heat olive oil in frying pan on medium heat. Place spoonful of mixture into pan and cook for a few of minutes each side, until golden and cooked through.
Delicious served with sour cream or Greek yoghurt.

Discover organic at our Wellbeing Directory

Like what you read? Sign up for a weekly dose of wellness