4 gluten-free pasta recipes packed with plant-based goodness
Explore cooking in a completely new way with no guilt or restrictions – just limitless possibilities. That's the power of Explore Cuisine: organic, gluten-free, plant-based and protein-rich alternatives to traditional pasta.
Edamame Spaghetti with Kale Coriander Pesto
Serves: 4
GF, VG
=R1=
Organic Black Bean Spaghetti with Lightly Steamed Vegetables & Peanut Sauce
Serves: 4
GF, VG
=R2=
Tuscan Kale & Mushroom Fettuccini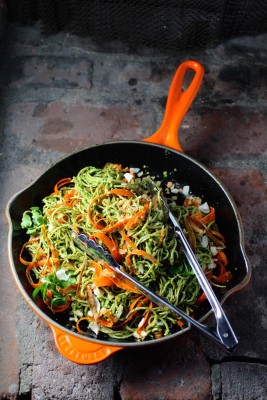 Serves: 4
GF, VG
=R3=
Meatless Monday Bolognese
Serves: 4
GF, VG
=R4=
For more information visit explorecuisine.com
4 gluten-free pasta recipes packed with plant-based goodness
Packed with plant-based goodness, these gluten-free vegan pasta recipes from Explore Cuisine offer a deliciously healthy take on your favourite family meal!
---
---
Ingredients
1 box Explore Cuisine Edamame Spaghetti
1 cup kale, chopped
1 cup coriander, chopped
30g slivered almonds, toasted
1 clove garlic
1 serrano chilli
1 tbsp lime juice
Pinch salt
¼ cup grated parmesan (or vegan alternative)
½ cup olive oil
1 knob ginger, peeled & sliced into shards
Dash olive oil
2 carrots, sliced into ribbons
¼ cup shredded coconut, toasted
---
Method
Blend kale, coriander, almonds, garlic, chilli, lime juice and salt in a food processor. Add cheese. Stream in olive oil while machine is running. Turn off and set aside.
Sauté ginger in a bit of olive oil, until crispy. Set aside.
To a large pot, add 8 cups water and bring to a boil. When boiling, add edamame spaghetti.
Cook for 3-5 mins, until al dente or firm to the bite. Drain and rinse.
Toss together spaghetti with carrots and pesto. Portion into 4 shallow, wide bowls. Sprinkle with ginger and toasted coconut.
Tip: Rinse spaghetti under cold water after draining to stop the cooking.
Vegan alternative: Omit parmesan and use a dairy-free vegan version, or nutritional yeast in its place.
---