Pea, Mint and Ginger Risotto Recipe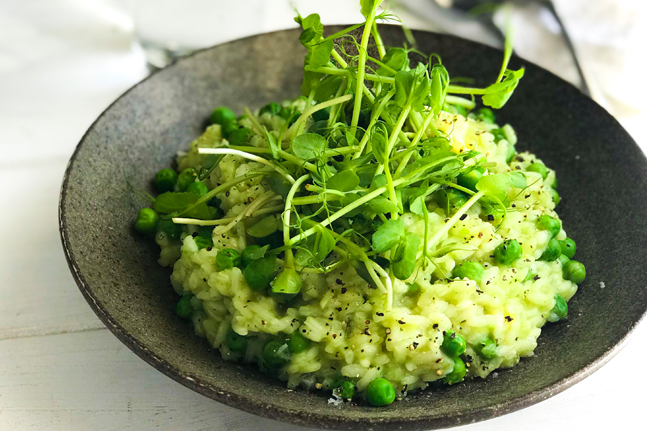 Credit: Adam Guthrie
The combination of peas, mint, ginger and lemon is so delicious. When I make this dish, I always have a second helping.
Serves: 4
1 onion, finely diced
1 garlic clove, peeled & sliced
1 tbsp finely grated ginger
2 cups uncooked Arborio rice
1.1L vegetable stock
3 cups frozen peas, thawed
½ cup mint leaves
2 cups pea tendrils
Salt & pepper, to taste
1 lemon, quartered
Heat saucepan on medium–low heat, add onion, garlic, ginger and 2 tbsp water. Sauté until water is absorbed.
Add rice and stir for 1 min until rice starts to become translucent. Reduce heat to very low. Add half of stock and stir frequently until absorbed. Continue adding ½ cup stock and stir until absorbed (it will take about 30 mins).
Meanwhile, add 1 cup peas and mint to blender with 1 cup of water and puree to liquid. Add other 2 cups of peas and liquid peas to rice and stir to combine.
To serve, divide cooked risotto into 4 bowls, top with pea tendrils and season with freshly ground salt and pepper and squeeze of a quarter of lemon.