Satay Tofu Recipe
For this recipe, use a plain crunchy peanut butter that has no added oils, sugars or salt. To make this dish vegan or vegetarian, you can replace the fish sauce with a vegan "fish" sauce made from coconuts. This is usually available in the health-food section of your supermarket.
Satay Tofu Recipe
This satay tofu recipe makes the ultimate vegan dish that works as a party starter, main or snack and is oh-so-easy to make!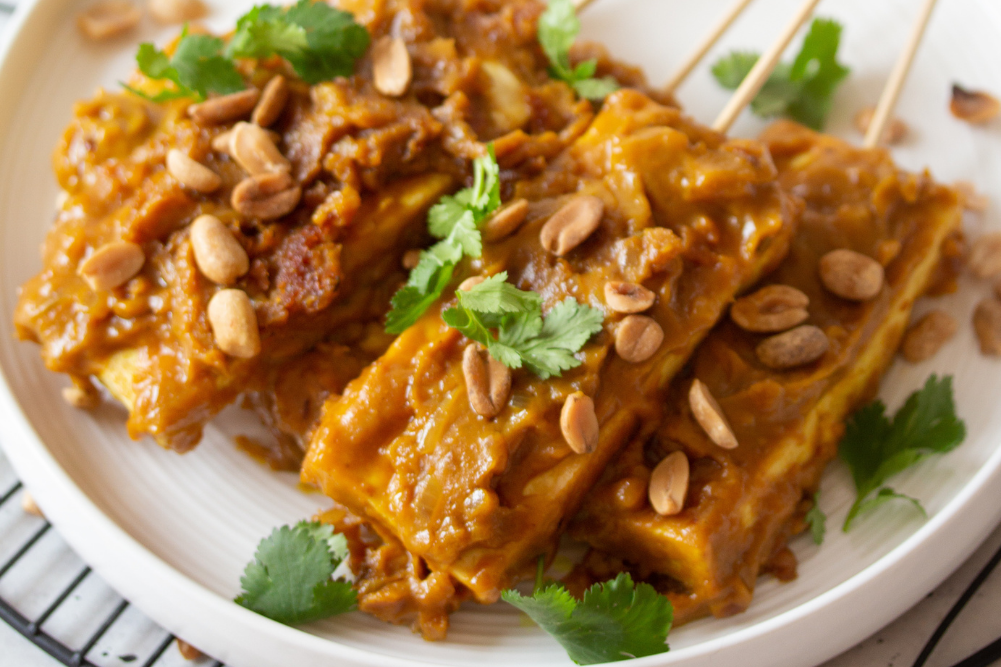 ---
---
Ingredients
Satay Sauce
½ onion, finely diced
1 tsp crushed garlic
1 tbsp olive oil
Pinch salt
1 tsp ground turmeric
2 tbsp coconut palm sugar
1½ cups water
1 cup unsalted crunchy peanut butter
4 tbsp coconut aminos
1 tbsp fish sauce or vegan alternative

375g firm tofu
10 bamboo skewers
1 tbsp olive oil
½ cup fresh coriander, chopped, to serve
---
Method
Add the onion, garlic, olive oil and salt to a saucepan. Cook over medium heat until the onion is soft and translucent.
Add the turmeric powder and coconut palm sugar, allow to cook for a further 2 mins, stirring continuously.
Add 1 cup of water along with the peanut butter, coconut aminos and fish sauce or vegan alternative. Allow the peanut butter to melt and then add the remaining ½ cup of water if the sauce is too thick. Simmer for a few mins while you prepare the tofu.
Slice the tofu into large pieces and push onto wooden skewers. Heat the olive oil in a large frypan over medium heat.
Cook the tofu for 5 mins on one side, turn over and cover with a few tbsp of the peanut sauce. Cook for a further 3 mins, allowing the peanut sauce to caramelise and thicken further.
Serve immediately topped with fresh coriander and some peanut sauce on the side.
---