Tropical iceblocks
Tropical iceblocks
These tropical iceblocks are such a fun and easy way to incorporate more fruit into your child's diet. Making them yourself means you can also limit how much added sugar or sweetener gets used, as most store-bought iceblocks are full of refined sugars. This recipe does not contain any added sweeteners as the fruit I've used is sweet enough.
Makes: 6 iceblocks
First layer
120g frozen passionfruit pulp
100g frozen mango pieces
50g coconut yoghurt
½ banana
3 tbs water

Second layer
200g frozen pineapple
50g coconut yoghurt
½ banana
3 tbs water
Prepare iceblock moulds and set aside.
Place ingredients for first layer into food processor and blend for 2 mins until smooth. Divide mixture between moulds, filling each halfway.
Add ingredients for second layer to food processor and blend until smooth. Top up each iceblock mould with mixture. Place stick and lid on each iceblock and put in freezer overnight.
These will keep very well in the freezer for up to 1 month.
MORE INSPIRATION
Cherry and almond sorbet
This simple cherry and almond sorbet recipe doesn't require an ice-cream machine, and it's vegan-friendly too. What are you waiting...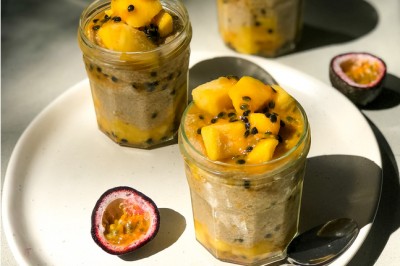 Mango passionfruit chia pudding
Need a healthy breakfast or a lunch on the run? These vegan mango passionfruit chia puddings are the perfect solution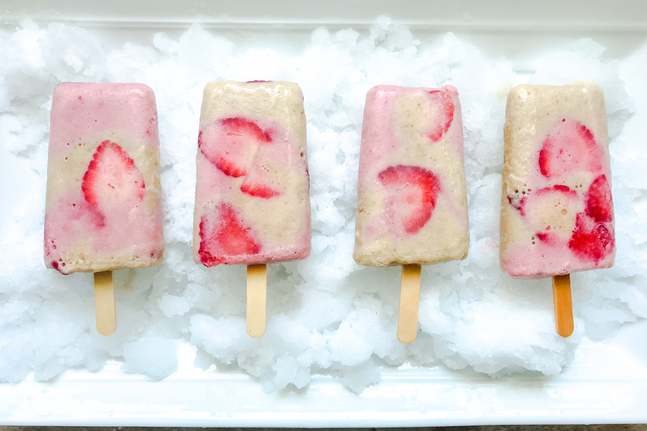 Strawberry, banana and vanilla iceblocks
Sugar-free, plant-based and vegan, these strawberry, banana and vanilla iceblocks will be your best healthy indulgence go-to ever.