Vegan Spaghetti Bolognese Recipe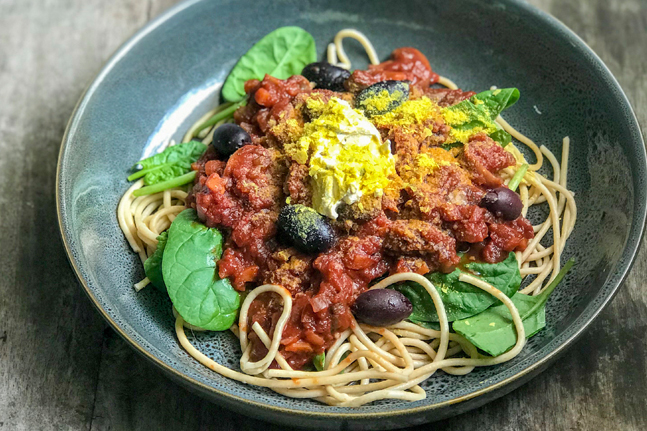 Credit: Adam Guthrie
My mum's spaghetti bolognese was the best! I could have eaten it every night as a kid; it was my favourite dinner. This is my wholefood plant-based version. I replace the mince with carrot and celery as they give a great depth of flavour and delicious mince-like texture. Enjoy!
Serves: 4
1 cup brown onion, finely diced
4 garlic cloves, sliced
1 cup carrots, finely diced
1 cup celery, finely diced
1 cup non-alcoholic shiraz or red grape juice
400g tin diced tomatoes
700g jar of passata
1½ cups water
2 tbsp vegan beef stock powder
20 button mushrooms, sliced
1 tbsp mixed dried Italian herbs
½ cup fresh basil leaves
4 cups of baby spinach
16 Kalamata olives, pitted
4 tbsp Nutty Bay Olive & Oregano or Tomato & Basil Cashew Cheese
4 tbsp nutritional yeast
375g wholemeal spaghetti
Heat wide pan or casserole pot on high heat. Add onions and dry sauté (no oil) for 1 min; add garlic and sauté for another min. Add couple of tbsp of water to deglaze pan. Add celery and carrots and sauté for couple of mins. Add non-alcoholic wine, tin tomatoes, passata and water.
Next, add vegan stock powder, mushroom, dried herbs and basil leaves. Stir well, cover with lid and bring to boil then reduce heat and simmer for 15 mins.
Remove lid and simmer for 10 mins until thick.
Meanwhile, cook spaghetti as per packet instructions.
To serve, place some cooked spaghetti into 4 shallow serving bowls, top with baby spinach leaves and bolognese sauce, add 4 olives, top with cashew cheese and nutritional yeast.