Mauritian Fish Rougaille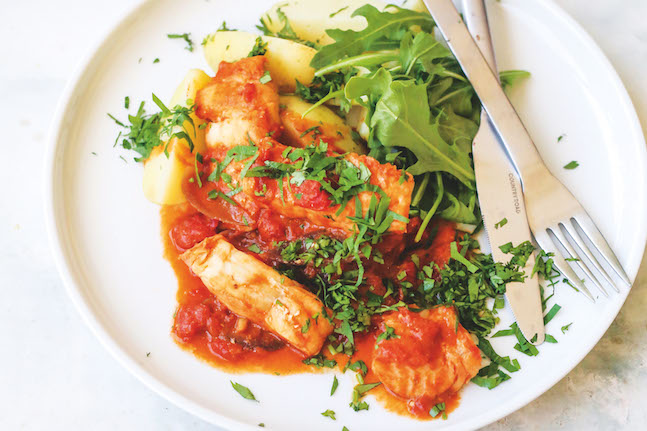 Mauritian Fish Rougaille
This delicious Mauritian-inspired fish is incredibly easy to whip together, and abundant in flavour with the addition of cumin, paprika, chilli, garlic and herbs. It's a quick and nourishing solution for dinner any night of the week.
Serves: 4
GF
2 tsp extra-virgin olive oil
1 red onion, peeled and sliced
3 cloves garlic, peeled & finely sliced
150mL water
2 tsp apple-cider vinegar
500g chopped fresh or BPA-free tinned tomatoes
1 tbsp ground cumin
1 tsp sweet paprika
1 pinch chilli flakes
800g fresh firm white fish fillets, cut into 3cm chunks
3 tbsp chopped fresh parsley, leaves and stalks
3 tbsp chopped fresh coriander, leaves and stalks
Sea salt & black pepper, to taste
Steamed potatoes or rice & fresh leafy greens, to serve
Heat olive oil in saucepan on medium heat. Add onion and garlic and fry for 2–3 minutes or until lightly golden.
Pour in water and apple-cider vinegar to soften onion, then add tomatoes and cook on high to reduce for 2–3 minutes.
Stir through cumin, paprika and chilli.
Add fish pieces, cover and cook for 5–6 minutes or until fish is well cooked through, turning once throughout so fish cooks evenly but doesn't break.
Serve sprinkled with fresh parsley and coriander and your choice of sides.