Vegan Bento Bowl Recipe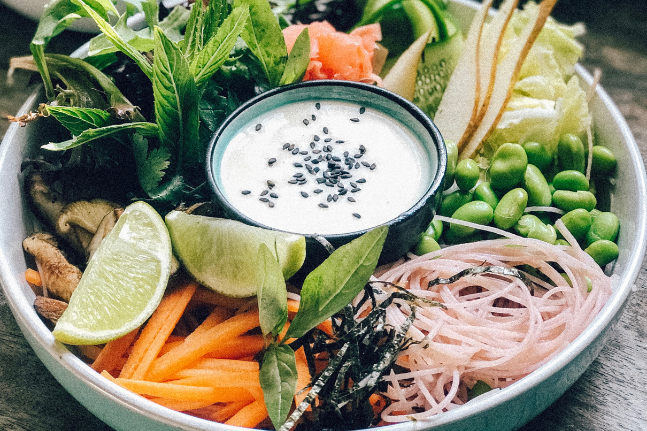 Image: Adam Guthrie
A Bento box is a Japanese-style packed lunch, usually in a special box with separate parts or containers inside. Like a Bento box, this dish is displayed beautifully and will make you feel a sense of Zen as you enjoy an organised meal full of nourishing gluten-free ingredients.
Serves: 4
GF, VG
Dressing
⅔ cup vegan mayo
1 tbsp tahini
2½ tbsp rice vinegar
2 tbsp plum vinegar
1 tbsp lemon juice
1 tsp toasted sesame oil
1 tsp wasabi
4 tbsp water
1 tsp black sesame seeds, to garnish
Bowl
8 fresh shiitake mushrooms, sliced
Salt & pepper, to taste
2 cucumber, cut into thin ribbons
2 carrots, cut into long thin strips
2 cups wombok, shredded
1 Nashi pear, thinly sliced
1 cup edamame, cooked
2 cups cooked brown-rice noodles
4 tbsp nori strips
2 lime, cut into quarters
4 tbsp pink ginger
1 bunch mint
1 bunch coriander
1 bunch Vietnamese mint
Place all dressing ingredients into a bowl except the black sesame seeds and stir to combine. Place into 4 small bowls (that can fit inside larger bowls) and top with black sesame seeds.
Heat a frying pan on a high heat, add the mushrooms and sauté until brown on both sides. Add and a tbsp of water and salt and pepper, to taste. Set aside.
Place the dressing bowls in the centre of four larger bowls and arrange all the other ingredients around the bowl.