A wonderfully inspired dish that adds a taste of Japan to Italy's well-loved dish: pasta.
When it comes to the crunch, celery has all the right elements as a nutritious and versatile ingredient to keep in your kitchen.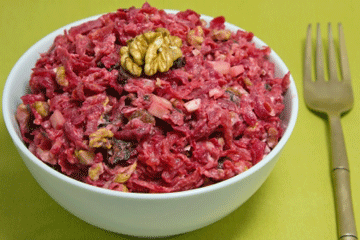 This salad is also delicious with other dried fruits such as raisins or prunes, which are packed with vitamins, minerals and fibre.
These stuffed chicken thigh fillets are wonderful for a special weekday treat.
Added buckwheat flour boosts the protein in this special pancake recipe.
A gorgeous mushroom dish with an Indian-inspired twist. Serve as a main dish with mango salsa.
This tasty vegetarian and vegan pasta has eggplant and spinach for a nutrient boost, and a good dose of chilli for a bit of a kick.
Making your own muesli is a wonderful way to tailor your breakfast to your dietary needs. (It's also fun!)
Ever wanted to make your own bread? Give this spelt, honey and sesame loaf a shot. It's perfect for those lazy weekends.
Serve these Japanese-inspired bite-sized balls of white rice with tororo kombu as a side dish or tasty snack.
Treat a loved one with this delicious yet wholesome roasted apple and rhubarb tartlet. Yum!
This spicy Middle Eastern-inspired haloumi dish is guaranteed to get your tastebuds zinging!
Subscribe
Subscribe to a newsletter to receive latest post and updates