This halva recipe is a sweet wholesome treat made from tahini, maple syrup and pistachios. Tahini is made from ground sesame seeds and it's highly nutritious, providing heart-healthy monounsaturated fats and vitamin E, zinc and selenium for a strong-functioning immune system.
This Greek lentil soup or fakes is a classic and comforting dish highlighting natural flavours and simple ingredients.
Get ready to enter the land of the Greek gods and goddesses with these delicious and nutritious cauliflower steaks with za'atar.
Tender rice with sweet, softened leeks and a hint of freshness from the lemon. This dish is perfect as a main with some crusty bread, or as a side.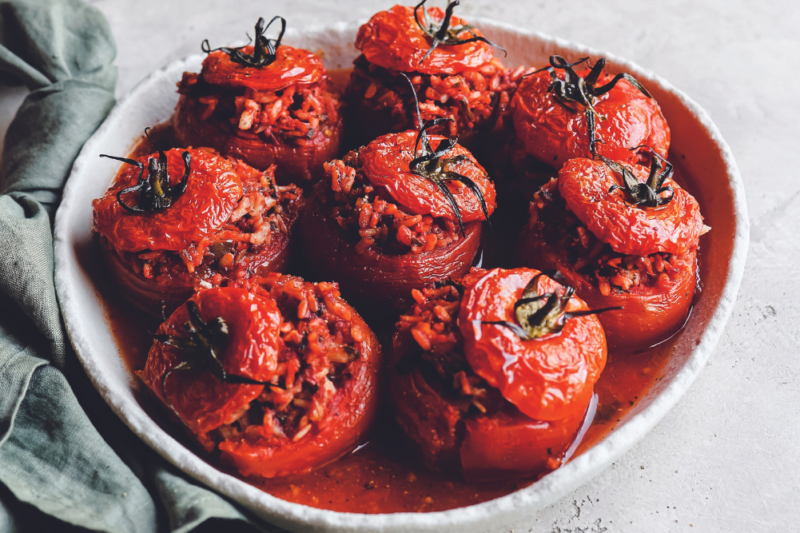 This classic dish of rice-stuffed tomatoes combines the sweetness of tomatoes with the saltiness of olives and the crunch of pine nuts. Baked to perfection in a juicy sauce, it's perfect as a starter, or serve with extra vegetables for a main course.
My crispy cannellini beans are a budget-friendly, flavoursome snack. Cannellini beans are nutritious because they are fibre-rich, which supports digestive health and keeps you feeling satisfied longer.
This is a super-tasty meal loaded with flavour. Once all the ingredients are prepared, it's very quick to make too!
Adobo is a popular Filipino dish typically featuring chicken or pork cooked in a tangy, vinegary and savoury sauce. This version highlights the goodness of chicken and one of my favourite veggies — leeks.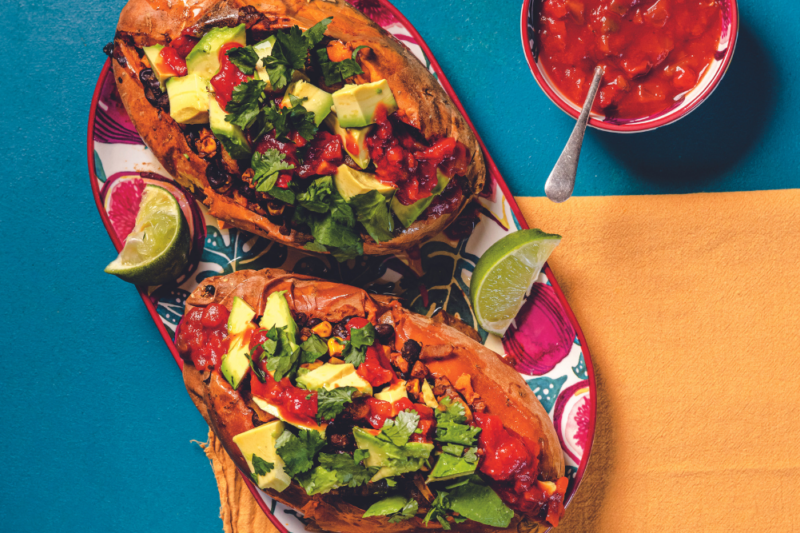 Indulge in the vibrant flavours of Mexico with these delicious Mexican stuffed sweet potatoes. This budget-friendly recipe combines the natural sweetness of roasted sweet potatoes with a savoury and spicy filling. Topped with creamy avocado and tangy salsa, these stuffed sweet potatoes make a satisfying and nutritious meal, perfect for any day of the week.
This recipe combines nutritious quinoa with an array of colourful vegetables and aromatic spices. It's a satisfying and wholesome dish to be enjoyed as a main course or a flavourful side. With its simplicity and deliciousness, this one-pot meal is perfect for busy weeknights as a quick and affordable option.
Start Taco Tuesday in the AM. Packed with protein, fibre and a variety of veggies, these breakfast tacos are a delicious way to fuel your morning.
I love a big breakfast on the weekend and this one is very satisfying! There are a lot of elements, but you don't have to cook all of them and they all go together beautifully.
Subscribe
Subscribe to a newsletter to receive latest post and updates